Camp So and So by Mary McCoy (March 1, 2017)
Mary McCoy's debut, a historical noir mystery, was a decent enough debut, so that got my attention enough, but I saw this book compared to Beauty Queens (which I'm finally rereading and loving all over again!), and that was enough to catch my attention way more. This sounds like a creepy and hopefully hilarious satire, and I will take that.
You're Welcome, Universe by Whitney Gardner (March 7, 2017)
I'm currently reading this and it's pretty good so far. I was surprised by how much we're getting in terms of graffiti politics and such, but it's definitely an interesting perspective I've never thought about, plus we get an Indian protagonist who's Deaf and has two Deaf mothers, which is definitely something we don't see enough of in literature, YA or otherwise.
Saga: Volume 7 by Brian K. Vaughan and Fiona Staples (March 28, 2017)
The next installment in this fantasy space adventure has arrived! It would have been nice if I just started this series when it was over and didn't have to wait, but whatever.
The Upside of Unrequited by Becky Albertalli (April 11, 2017)
Yay for plus-sized protagonists! I liked Becky Albertalli's debut, Simon vs. the Homo Sapiens Agenda, but I wasn't one of the people who hyped it all over the place, so I hope this book will the one that makes me really fall in love with her stories like lots of people did with Simon.
Fireworks by Katie Cotugno (April 11, 2017)
I have an eARC of this book, so hopefully I'll get to it soon before it comes out next month. This is a blast from the past ('90s set), and even though I was just an adorable little child during that time, I'm hoping there's some fun nostalgia and friendship feels.
The Maybes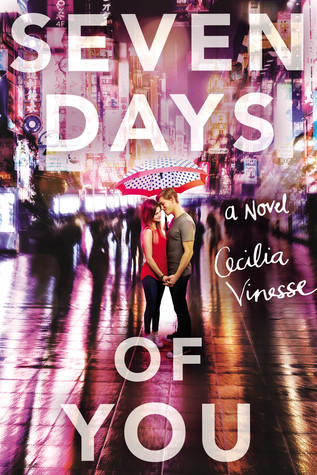 Sophia has seven days left in Tokyo before she moves back to the States. Seven days to say good-bye to the electric city, her wild best friend, and the boy she's harbored a semi-secret crush on for years. Seven perfect days…until Jamie Foster-Collins moves back to Japan and ruins everything.

Jamie and Sophia have a history of heartbreak, and the last thing Sophia wants is for him to steal her leaving thunder with his stupid arriving thunder. Yet as the week counts down, the relationships she thought were stable begin to explode around her. And Jamie is the one who helps her pick up the pieces. Sophia is forced to admit she may have misjudged Jamie, but can their seven short days of Tokyo adventures end in anything but good-bye?
In the tradition of Bridget Jones's Diary, a lovably flawed high school student chronicles her life as she navigates the highs and lows of family, friendship, school, and love in a diary that sparkles with humor and warmth.

I'm Chloe Winter, and my life is kiiiiind of a disaster.

On the plus side, I got the lead in the musical!

On the down side…

1. I'm a kissing virgin (so so so embarrassing).
2. My best friend, Hannah, is driving me insane.
3. I think I'm in love with Mac Brody, the most popular senior guy, whose girlfriend is so beautiful she doesn't even need eyeliner.
4. My dad won't stop asking me if I'm okay.
5. Oh, and my mom moved to Mexico to work on her novel. But it's fine—she'll be back soon. She said so.

Mom tells me everything is copy. So I'm writing down all the horrible things that happen to me in this diary.

This is the worst year of my life so far, unless maybe it's the best.
When BFFs Charlie, Taylor and Jamie go to SupaCon, they know it's going to be a blast. What they don't expect is for it to change their lives forever.

Charlie likes to stand out. SupaCon is her chance to show fans she's over her public breakup with co-star, Jason Ryan. When Alyssa Huntington arrives as a surprise guest, it seems Charlie's long-time crush on her isn't as one-sided as she thought.

While Charlie dodges questions about her personal life, Taylor starts asking questions about her own.

Taylor likes to blend in. Her brain is wired differently, making her fear change. And there's one thing in her life she knows will never change: her friendship with Jamie—no matter how much she may secretly want it to. But when she hears about the Queen Firestone SupaFan Contest, she starts to rethink her rules on playing it safe.
Cinderella goes to the con in this fandom-fueled twist on the classic fairy tale.

Geek girl Elle Wittimer lives and breathes Starfield, the classic sci-fi series she grew up watching with her late father. So when she sees a cosplay contest for a new Starfield movie, she has to enter. The prize? An invitation to the ExcelsiCon Cosplay Ball, and a meet-and-greet with the actor slated to play Federation Prince Carmindor in the reboot. With savings from her gig at the Magic Pumpkin food truck (and her dad's old costume), Elle's determined to win unless her stepsisters get there first.

Teen actor Darien Freeman used to live for cons before he was famous. Now they re nothing but autographs and awkward meet-and-greets. Playing Carmindor is all he's ever wanted, but the Starfieldfandom has written him off as just another dumb heartthrob. As ExcelsiCon draws near, Darien feels more and more like a fake until he meets a girl who shows him otherwise.

Part romance, part love letter to nerd culture, and all totally adorbs, Geekerella is a fairy tale for anyone who believes in the magic of fandom.
Kyla Cheng doesn't expect you to like her. For the record, she doesn't need you to. On track to be valedictorian, she's president of her community club, a debate team champ, plus the yummy Mackenzie Rodriguez has firmly attached himself to her hip. She and her three high-powered best friends don't just own their senior year at their exclusive Park Slope, Brooklyn high school, they practically define the hated species Popular. Kyla's even managed to make it through high school completely unscathed.

Until someone takes issue with this arrangement.

A week before college applications are due, a video of Kyla "doing it" with her crush-worthy English teacher is uploaded to her school's website. It instantly goes viral, but here's the thing: it's not Kyla in the video. With time running out, Kyla delves into a world of hackers, haters and creepy stalkers in an attempt to do the impossible-take something off the internet-all while dealing with the fallout from her own karmic footprint. Set in near-future Brooklyn, where privacy is a bygone luxury and every perfect profile masks damning secrets, The Takedown is a stylish, propulsive, and provocative whodunit, asking who would you rely on if your tech turned against you?
Riya and Abby are:
Best friends.
Complete opposites.
Living on different continents.
Currently mad at each other.
About to travel around Europe.

Riya moved to Berlin, Germany, with her family for junior year, while Abby stayed behind in their small California town. They thought it would be easy to keep up their friendship-it's only a year and they've been best friends since preschool. But instead, they ended up fighting and not being there for the other. So Riya proposes an epic adventure to fix their friendship. Two weeks, six countries, unimaginable fun. But two small catches:

They haven't talked in weeks.
They've both been keeping secrets.

Can Riya and Abby find their way back to each other among lush countrysides and dazzling cities, or does growing up mean growing apart?